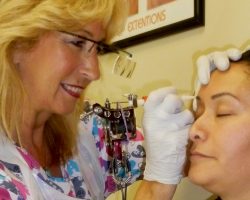 If you're looking for a way to turn back the clock, reduce the presence of wrinkles and restore the youthful appearance you desire, New Image by Hilary is ready to help! Through procedures like permanent eye makeup and permanent lipstick in Carmel, CA, we're able to brighten your appearance and give you the aesthetic you want each and every day. We promise confidence you haven't felt in years!
Permanent Eye Makeup
By far our most popular service, permanent eyeliner in Carmel, CA will free you from the ritual of applying mascara and eyeliner every day. Our goal is to give you a natural look that compliments the rest of your facial features. We customize our services to make sure your permanent eye makeup fits the contour of your face, while also accommodating your individual style. Our most popular types of eye makeup include:
Eyelash enhancement, which includes applying color on the lash base for a denser look.
Top liner, for those who prefer to enhance their upper lids and eyelashes.
Full eyeliner, which can be applied subtly or boldly to mimic traditional makeup.
Natural liner, for subtle, everyday color that can be combined with traditional makeup.
No matter which option you choose, we will always work with you to find the perfect color, style, and boldness for your eye shape and personal style. You certainly don't need an excuse to want to wake up with perfect eyeliner every morning! Some of the benefits of permanent eye makeup include:
Saving you time and the hassle of doing your makeup each morning
Participate in sports—such as swimming or running—without smudges
Enjoy professional-looking makeup every day
Eyes will look more alert and awake at all times
Makeup can be customized to your preferred aesthetic
Saving money long-term by not having to buy multiple eye makeup products
Permanent eyeliner ensures your makeup will look just as good when you're leaving work as it did when you arrived!
The saying that eyes are the windows to the soul should never be undervalued. The window with the most beautiful view still needs a frame. Learn how we set the frames with our permanent eyebrow services today.
Permanent Lip Makeup
Enhance your natural beauty with a lip enhancement procedure! Our goal in applying permanent lip makeup is to provide your lips with a healthy color and natural fullness. We achieve this by keeping the color soft and aligned with your natural color pallet, and applying the right enhancement to accentuate your features. Our popular types of lip enhancement in California include:
Lip liner gives lips more definition and provides a more uniform shape.
Full permanent lipstick color is applied to your entire lip, either in a natural or more vivid shade.
Lip extensions are a blending of liner and full color to achieve natural fullness.
Why choose permanent lipstick? Our lip enhancement services are ideal for those with uneven lips, eyesight problems, allergies to traditional cosmetics or not enough time to spend on daily makeup application. Benefits include:
Prevents bleeding lipstick
Saves money on buying lipstick and lip liner
Saves time wasted on lipstick application/re-application
No fading lipstick throughout the day
Can still apply other colors of traditional lipstick on top
Contact Us
Ready to accentuate your eyes and lips and achieve a whole new level of confidence from your appearance? Schedule an appointment with New Image by Hilary today by calling 831-484-5400. We provide eye, brow, scar treatment, and micropigmentation services throughout Carmel, Monterey, Pacific Grove, and Monterey County, CA.